Design Studio Opening with Pete McKee!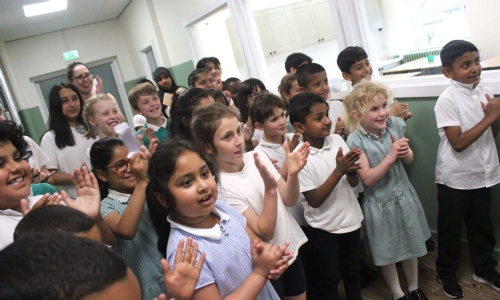 We are thrilled to announce that our wonderful brand-new Design Studio has officially been opened! Thanks to capital funding from Mercia Learning Trust, we have transformed an old classroom into a buzzing creative space where pupils can dive into the art, design, and technology curriculum like never before.
To celebrate the launch of the Design Studio, this week we threw an opening ceremony with the one and only Sheffield artist, Pete McKee. Pete officially cut the ribbon, making it clear that art education is top priority at Nether Edge Primary.
During his visit, Pete McKee hung out with pupils and teachers, checking out classrooms and giving an inspiring masterclass on sketching natural materials like pinecones. Year 6 pupils got to have their art lesson in the new studio, where Pete used our new tech to show off his drawing skills.
And that's not all! The school's hall was transformed into an art and design exhibition, showcasing mind-blowing creations by the school's Art Ambassador crew. These talented kids proudly showed off their work to VIP guests, blowing everyone's minds with their artistic talents.
It was wonderful to see the children proud of their artwork and showing Pete their creations. He took the time to make sure he explored the whole exhibition, and was over the moon when we presented him with one of our artist's very own creations on canvas. He said he's looking forward to hanging it in his own studio!
Pete McKee said:
So many schools have been told to put Art to the side, but this school hasn't. Nether Edge Primary is saying Art is front and centre, and it's so joyous to see. It's so wonderful to have been embraced by this incredible welcoming school. Their artwork is really impressive - far better than I could have done at their age!
Headteacher, Michele Nott, couldn't be happier,
Nether Edge Primary is absolutely honoured to welcome the famous Sheffield artist Pete McKee to open our fantastic new design studio today. The design studio is hugely important to our provision at Nether Edge. It is going to allow our pupils to be really creative in an inspiring and accessible space. The developed space will benefit all our pupils, who are ALL artists.